This Place Matters!
 Take a quick video tour of places that matter to people in Arcata.
Bob Schultz is standing in front of a 1870s settlement era home which was remodeled in 1905 creating multiple gables, which have cornice returns and cut out decorations, artistic upper-sash window divisions, cutaway bay, and porch columns on wall piers. The Strobel House was recently rehabilitated after a fire several years ago by Phyllis Helligas.
Neil Gilchrist is standing on the porch of this Craftsman cottage built in 1914 for Mrs. Haugh by Eureka contractor, George F. Hill. Note outside rustic shingles in the gables. The house was patterned after Bungalow Hill built for Mrs. J. H. Hunt on Arcata Road opposite Stephen Hill place.
Actor Josef Cannon will soon acting be in Flea, a film made in Humboldt County. He just completed Eagle Path and SOS documentary and stands in front of the Jacoby's Storehouse, the oldest extant structure on the Plaza. Constructed in 1857 for Augustus Jacoby for his supplies which arrived by ship from San Francisco and were transported to the Trinity, Klamath and Salmon Rivers by mule trains where the goods were exchanged for hard-won gold extracted from these streams. In 1977, Arcata's largest historic preservation effort began as a complete renovation of the building. Interior woodwork and remodeling, rear facade construction, west-side exterior work brought the original building's history back to life and restored the store's turn-of-the-century Classic Revival architecture.
Steve Avis stands on the playground side of the Stewart School – Arcata Landmark #76. "At the time of its construction in 1925, Stewart School was the pride and joy of the community and rightfully so. Designed by San Francisco architect, N.R. Coulter and built at a cost of $70,000 by Myrl Crane, the school was considered the most modern and best-equipped in Humboldt County. Built in the Moorish style, the unit type structure was designed so that later additions could be made, with the initial unit consisting of an auditorium with seating room for 800 people, twelve standard-size classroms, office, library, teachers' room, nurse's room, restrooms and a basement. …Hugh B. Stewart, for whom the school was named in 1952, was principal of Arcata's grammar school from 1911 until 1925 and superintendent from 1925 until his retiremant in 1952. It was under his leadership that the building was contructed and when it was vacated, the new gymnasium at Sunny Brae Middle School was named in his honor. Asta Cullberg never missed a day of teaching because of illness in her forty years at Stewart School. During those years, (1930-1970) she was a classroom teacher at every grade level and also served as vice principal. Her continuing interest and efforts in developing a library at the school mad it appropriate to name the new facility at the Sunny Brae Middle School, the Asta Cullberg Memorial Library." Source: Susie Van Kirk, 1979. "Reflections of Arcata's History: eighty years of architecture"
This Tudor Revival Craftsman was built in 1939 at 814-13th Street and is home to the Arcata Stays network owner Christy Laird and Rose Court Cottage. Jim Test stands in front of this home and in its beautifully landscaped garden.
Nancy Atkinson of Fort Bragg stands in front of one of the barns on Jackson Ranch Road which are owned by the Department of Fish and Game during a Godwit Days bird watching trip.
Kristine Long stands in front of the Simpson House at the corner of 5th and G Streets (493 G Street). This home was built in 1877, a one and half story house with an off center front door, transom window above the door and 2/2 windows. The house has uncharacteristic bracketed window shelves (hoods) and an entrance stoop with two posts on piers.
HSSA board of directors at the Phillips House Museum. Phillips House is a Gothic Revival style of home, it is considered the earliest remaining house in Arcata. Visit the Phillips House Museum.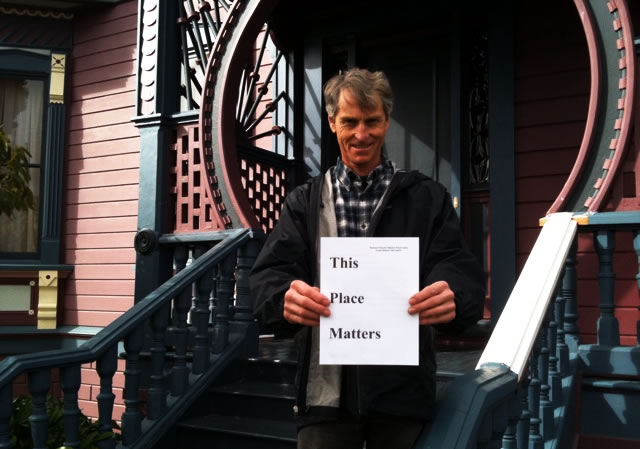 Steve Heckeroth, a Mendocino architect and keynote speaker at the Plan It Green conference stands in front of one of the State's premier examples of Queen Anne architecture. This is house with complex rooflines, corner tower, gables, bays and richly textured surface of patterned shingles and applied ornamentation. The wonderful horseshoe entrance and balustrades, lavishly decorated with spindlework and Eastlake ornamentation.
Lew Litzky stands in front of  the Culberg House which is an unusual version of the Italianate style of architecture. This home was built in 1862 during the Settlement era when houses were normally one and half stories and gabled roofed, this house is an exception with its low pitched hipped roof and one story. Three-window slant bays with separate roof are located on either side of the house and the large porch pillars, framing the recessed doorway with a divided fanlight light above and pillar plasters on either side.